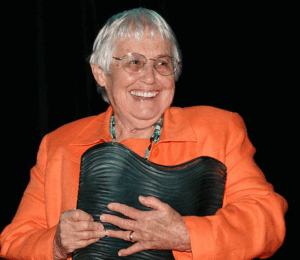 When all is said and done, when all is felt and heard, I will remember Esther Colliflower as my friend. Esther was many things to many people.  For most of her life she was the spouse of a wonderfully kind, gentle and witty man named Owen Colliflower.   She was the mother of eight children and a countless number of grandchildren and great grandchildren.  She was a nurse, sensitive and caring with all of her patients.  She was a dedicated and effective educator at Miami-Dade Community College and the recipient of their distinguished alumni award. Along with our closest friend, Hugh Westbrook, she was the co-founder of VITAS Healthcare, the largest hospice company in the country.  In Miami she created the first hospice in the nation that was devoted solely to caring for AIDS patients.  She helped create a foundation that would provide financial support to hospice patients for needs that could not be met by other means.  She also helped to create a foundation within the Miami Foundation that would support charitable groups throughout Florida for decades.  Along with Westbrook she created an end-of-life program at Duke University, where an academic chair was established in her name.
Others will write of Esther's many professional accomplishments and the awards and honors bestowed on her.  I would write of the warm and wonderful, kind, generous and loving person that I knew and worked beside for over 35 years.  I met her in the mid-eighties when I was the pastor of a small church in Daytona Beach.  Along with her husband, Owen, she joined a small group from our church that was going to China for three weeks. Her presence on that trip was keenly felt; and, she made the time memorable for all of us.  In 1990, Westbrook asked me to become a chaplain in one of the VITAS programs in Ft. Lauderdale. Just a few months later Esther asked me to come to the corporate office in Miami.  This move established a close working relationship between Esther and me; and, for over fifteen years we would travel together to VITAS programs across the country.  When she entered one of the programs, she would light up the room. VITAS staff were thrilled to see her and be around her; and, she felt the same way with them.  She went to their meetings, their dinners, their parties and loved every moment of them.  In Philadelphia, we visited a hospice inpatient unit where most of the patients had only days or weeks to live.  She would certainly visit the staff, but the remarkable thing about her that day in Philly is that she went into every room in the facility and visited with all of the patients one on one. She brought smiles to their faces with her kind and humble nature and with her wit and sensitivity. It was remarkable to observe; and, I would see it again and again in Chicago, Houston, San Francisco and the many other cities and places we visited. Esther was the type of person who would fly back from California to Miami and be bright and cheery in the office the next morning. She made corporate life a joy, as she lit up the room with her presence and transformed our work and our goals. One of my daughters was a winter intern, and one of her memories of Esther was at the corporate holiday party where she was amazed to see Esther dressed up as Santa Claus.
One day I visited Esther and Owen in their home in Miami.  On one of the large tables there were framed photos of all of her children, along with spouses and grandchildren.  Alongside the many family pictures, Esther had placed framed photos of Hugh Westbrook and a few other corporate staff, including myself. That was vintage Esther, bringing her close friends at work into her family. She had an uncanny way of creating such a feeling in those of us who worked closely with her. Her colleagues at work were family. That was the closeness that we felt about each other. She had done a similar thing with those patients in Philly. She made them feel like family; and, in some real sense, to her they were.
After all is said and done, after all is felt and heard, I will always remember Esther as my friend.
  Memory can only tell us what we were,
In company with those we loved;
It cannot help us find out what each of us,
Alone, must now become.
Yet, no person is really alone;
Those who live no more still echo
Within our thoughts and words,
And what they did,
And who they were has become
Woven into what we are.
Richard Fife
 Esther Colliflower, a giant in the hospice world and a founder and Board Member of the Foundation for End-of-Life Care, died peacefully in her sleep on December 14.  Like the many other lives she touched, I will miss her greatly.  She made the world a better place; and, it is a little poorer without her presence.
Esther Colliflower
Co-founder and Former Vice Chair of the Board of Directors
Vitas HealthCare (formerly Hospice of Miami)
Longtime nurse Esther Colliflower wrote a new chapter in the care of terminally ill patients and influenced the evolution of the American hospice industry as the visionary co-founder of what became the VITAS HealthCare Corp.
Colliflower's professional training included two years at Miami Dade College, a nursing degree from the University of Pennsylvania and a master's with a focus on adult education from the University of San Francisco — Lone Mountain.
When the youngest of her eight children started school, Colliflower returned to MDC as an instructor, joining a Methodist minister, Hugh Westbrook, to teach a human sexuality course. They later developed a course called "Life Affirmation and Death Attitudes," which attracted like-minded professionals.
Convinced that traditional health care was failing patients at the end of their lives, Colliflower and Westbrook researched compassionate alternatives and in 1978 launched Hospice of Miami. Colliflower cared for their first patient, who lost her quality of life through extensive chemotherapy and radiation treatments. She simply wanted to die peacefully at home — as she did a month later — instead of a hospital.
Among the sea changes Colliflower introduced to end-of-life care was enrichment of life and a decision-making team that went beyond the doctor to include the patient, his or her family and an aide or social worker.
Hospice of Miami achieved major breakthroughs in 1979 when, after much lobbying from Colliflower and Westbrook, the Florida Legislature enacted the nation's first hospice licensing law, and in 1982, when hospice care became a Medicare benefit, opening a sustainable new revenue stream.
With Colliflower serving as its chief patient- and family-care officer, Hospice of Miami eventually became VITAS HealthCare. Colliflower continued as a director, vice chair of the board of directors and senior vice president of the company until retiring in 2004.
"Miami Dade College guided my entry into nursing and years later I drew on those early lessons to help improve care for the terminally ill."
DISCLAIMER:
The Foundation for End-of-Life Care, Inc. was founded in 1999 as a not for profit charitable organization by Hugh Westbrook & Esther Colliflower who were the founders of Vitas Healthcare Corporation.  Since its inception, The Foundation has been supporting the special needs of hospice patients and their families nationwide by providing financial grants to support their monthly living expenses. The Foundation continues to operate as a stand-alone not for profit Foundation doing business under its legal name(s); Foundation for End-Of-Life Care, Inc., Hospice Foundation for End-Of-Life Care, Inc., & Vitas Hospice Charitable Fund.